'Queen of High One' Han Jin-sun wins for second year in a row with two eagles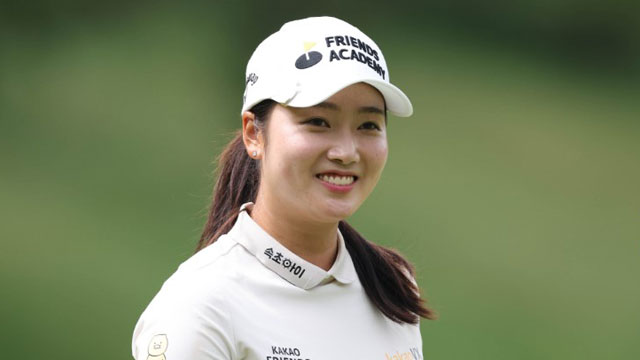 Han Jin-sun led with two eagles to defend her title for the first time in her career.
Han fired a 7-under 65 in the final round of the Korean Ladies Professional Golf (KLPGA) Tour's Haiwon Resort Women's Open ($800,000) on Tuesday at Haiwon Country Club (Par 72) in Jeongseon-gun, Gangwon-do, to win with a four-round total of 14-under 274.
After winning the tournament last year for the first time in her 131-game career, Han enjoyed her second consecutive victory and second career title.
The prize money was $144 million. Han jumped to 15th place on the prize list ($349.8 million).
"I couldn't believe it when I won my first title last year, which I was looking forward to so much, and I can't believe it this time either," said Han. "Now that I've accomplished one of my two goals for this year – defending my title and winning a major – I'll try to win a major next."
Hanjin is the second player after Lim to win back-to-back titles at the 12th edition of the Hi One Resort Women's Open, but the first to do so in consecutive years.
It took Lim two years to win back-to-back titles after winning in 2019 and 2021 as the tournament was not held in 2020 due to COVID-19.
She is only the third player to win the event twice after Yoo So-yeon (2009, 2015) and Lim Hee-jung.
Prior to the tournament, she said, "So far this season, I've been preparing for my second consecutive Hiwon Resort Women's Open. I've been looking forward to this tournament. I feel good and comfortable when I come to this course," said Han, who was confident of defending her title, and she pulled off a thrilling upset with two shot eagles on the day.
This is only the third time a player has won a KLPGA Tour event with two shot eagles.
Kim Se-young at the 2013 Hanwha Financial Classic and Choi Hye-jin at the 2017 Chojung Carbonated Water Yongpyong Resort Open both won with two shot eagles in the final round.
Han said it was the second time she had two eagles in a day, but the first time she had two shot eagles.
Entering the final round in a tie for third place, two strokes behind leader Lee Ji-young, Han played a frustrating round, failing to cut the deficit to one stroke until the fifth hole.
But a 5-meter birdie putt on the sixth (par-3) turned the tide, and Han holed an eagle on the seventh (par-4) when her second shot from 161 yards left the hole.
"The pin position was difficult, so I didn't even think about an eagle," Han said.
With momentum on his side, Han followed up a birdie on the 10th with another shot eagle on the 11th (par-4).
His wedge from 100 yards disappeared into the cup.
"It was a lucky day," Han said, "and when I made the second eagle, I even thought, 'This is my golf course,'" he added.
With a five-stroke lead and the tournament virtually decided, Han sank a 3-meter birdie putt on the par-3 16th hole.
After coming from three strokes down in the final round last year, Han overcame a two-stroke deficit this time around, making both of his victories final-day upsets.
Lim Jin-hee, who began the final round in a tie for third place with Hanjin, was unable to stop Hanjin's momentum with a 1-under 71 and had to settle for a six-stroke tie for second place (8-under 280).
With her second victory of the season, Lim earned her eighth top-10 finish of the season, tying her with Park Ji-young for the most frequent top-10 finishes.
With her runner-up finish, Lim moved into a tie for first place on the money list with Park. She also moved up to third place on the money list ($584.28 million).
Park did not compete in this event.
Madasom, who dropped three strokes, Lee So-mi, who shot 2-under-par, and Lee Ga-young, who fired an even-par 72, also joined Im in a tie for second place (8-under 280).
Park Min-ji shot a 3-under 69 to move into a tie for sixth place (7-under 281).
Lee, who entered the final round in the lead, dropped four strokes and slipped to a tie for 12th (5-under par 283).
Lee finished in a tie for 31st place (even-par 288), but retained the top spot on the money list.
Playing as a recommended player, 카지노사이트킴 Yoo So-yeon shot a 2-over-par 74 to finish her homecoming tied for 39th (1-over-par 289).